Yesterday, I announced that I was going to my first ever food blogging conference! To celebrate, it's chocolate time!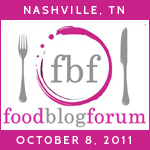 But, before we get there, I thought I'd share some things.
This is my first time…
traveling alone.
attending a conference.
meeting any of my fellow food bloggers.
visiting Nashville, TN.
Weeeeee! I'm so excited! 🙂
I digress…back to these amazing goods.
These are incredibly easy to make, yet are super rich in chocolatey flavor.
They were a hit. 🙂
Make them.
No-bake Triple Chocolate Chip Cheesecake Bars {Gluten-free}

Ingredients
15 gluten free oreos
2 tablespoons melted unsalted butter
1/2 teaspoon gelatin
1 tablespoon water
8 ounces room-temperature 1/3 fat cream cheese
7 ounces fat free sweetened condensed milk
1/4 cup natural peanut butter
1/2 cup mini semi-sweet chocolate chips
8 ounces heavy cream
1 cup dark chocolate chips
How-To
In a food processor, grind the oreos until they are fine crumbs.
Add in the melted butter and blend to combine.
Press the oreo crust into the bottom of a 8″x8″ pan. Set aside.
In a small bowl, combine the gelatin and water. Let sit for 5 minutes.
In the meantime, blend the cream cheese, sweetened condensed milk and peanut butter together in the food processor, until combined.
After the 5 minutes has passed, microwave the gelatin water for 10 seconds.
Add the gelatin water to the food processor and blend again to combine.
Pour the mixture into a bowl and stir in the mini chocolate chips.
Spread onto the oreo crust evenly. Set aside.
In a small sauce pan over medium-high heat, bring the heavy cream to a boil.
Remove from the heat and add in the dark chocolate chips.
Stir until melted and smooth.
Pour evenly over the cheesecake layer.
Freeze for at least 45 minutes.
Cut into squares and enjoy cold! 🙂
Note: If you don't have a gluten intolerance, you can use normal oreos for the crust and they will be just as tasty. 🙂